Welcome
Lansdowne, Ontario is a beautiful, rural village located in the Township of Leeds and the Thousand Islands (TLTI) at the intersection of Leeds and Grenville County Roads #3 and #34. It can be accessed from Highway 401, via exit 659, and from County Road #2 at the intersection with County Road #3, just south of the village. Many visitors from the United States travel to Lansdowne via Interstate 81 and the Thousand Islands Bridge.

Lansdowne is a service hub for the community and provides many retail and service outlets for both residents and visitors. Whether you are looking for a homecooked meal, fuel for your vehicle, internet access, or food and beverage supplies for a camping trip, it is all available in the village.
History of Lansdowne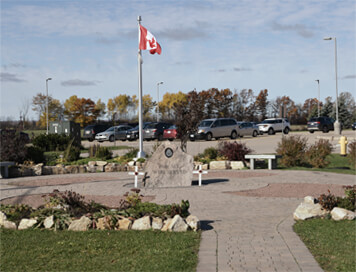 Lansdowne has an interesting history connected to the railway. An informative walking tour of Lansdowne highlights the historic buildings that have wonderful stories to tell.
The Lansdowne Community Veterans' Memorial erected at Thousand Islands Elementary School, is adorned with a lovely Dutch-Canadian Friendship Tulip Garden. Visitors and residents gather here on November 11 each year to pay tribute to those who fought for our freedom.
Heritage Signage
Lansdowne is in the process of installing beautiful and informative interpretive signage to depict historical aspects of our community. The first sign is located on the front yard of the Thousand Islands Elementary School. It commemorates the schools of the past in the area.
---
Accommodations
Stop and stay awhile to take advantage of all the sights, sounds and events in the Lansdowne area. Accommodations can be found in the Lansdowne area, as well in the neighbouring community of Gananoque, and along the St Lawrence River. Enjoy a stay with breath taking views of the beautiful surroundings.
---
Scenic Routes
Lansdowne and the surrounding area is home to some of the most beautiful scenery in the world. Rich natural landscapes and waterscapes connect to produce the world famous Thousand Islands located in the St Lawrence River. The glacial formed lakes and rocky formations to the north invite residents and visitors to engage in snowmobiling, cross country skiing, hiking, cycling, water sports, camping, cottage life, and using trails for off road adventures.
In 2002, this region was designated a UNESCO World Biosphere Reserve, and is known as the Frontenac Arch Biosphere. The Frontenac Arch is an ancient granite bridge that connects the Canadian Shield to the north, to the Adirondack Mountains to the south. This granite outcropping has formed the islands in the St Lawrence River, known as the Thousand Islands, stretching from Kingston to Brockville.
Take advantage of the many scenic routes in the Lansdowne area. Whether on land or water, winter or summer, there are routes and trails to challenge your skills, or to help you to relax. Enjoy!
---
Parks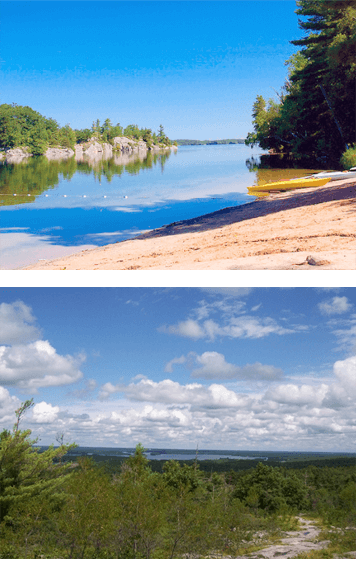 While natural landscapes and waterscapes abound in the community, several parks are available for day use and long term camping. Some parks offer rental of canoes, kayaks and boats.
Charleston Lake Provincial Park
Charleston Lake Provincial Park is located just north of Lansdowne and has three camp grounds, hiking trails, boat ramp, and a day use beach and picnic area. Launch your canoe, kayak, or boat and explore the scenic beauty of Charleston Lake while tossing in a bit of fishing along the way.
Fishing Licenses
Check for information on fishing licenses for Canadian and Non-Canadian residents.
Blue Mountain
Within Charleston Lake Provincial Park sits the highest point of land in the area,
known as Blue Mountain. Although not even remotely high enough to be considered
a mountain, it is still an icon in the community. On Thanksgiving Weekend and Easter
Weekend, many hikers start out on the well travelled route from Blue Mountain Rd,
and arrive on the top after approximately 1.5 to 2 hours of traversing the wooded path. The seasonal scenic views are enjoyed by all.
Thousand Islands National Park
Thousand Islands National Park offers several camping solutions both on the islands and the mainland. Time to explore the bays and inlets with a canoe, kayak, or motorized boat.
Day Use Parks in our township.
Jerry Park Sports Facility
Check out the amenities located at Jerry Park in Lansdowne – sports fields, splash pad, playground, tennis courts, winter skating rink.
Kendricks Park (Day Use Park – Lyndhurst)
Did you know that this park has free admission to all TLTI residents? Beach, picnic areas, pavilion, washrooms.
Marinas & Boat Ramps
With the many waterways surrounding Lansdowne, boat access is crucial to residents and visitors. To access the St Lawrence River, public access can be found in Ivy Lea and Rockport as well as Gananoque. To access Charleston Lake, boat ramps are located at the Outlet, at the south end of Charleston Lake on Country Rd #3, and at Charleston Lake Park.
---
Local Flavours
Short day trips from Lansdowne will take you to farmers' markets and roadside venues where you can sample and purchase fresh produce and tasty treats.
---
Dining
With all the interesting things to see and do in the Lansdowne Community, you will surely work up an appetite for some scrumptious culinary delights!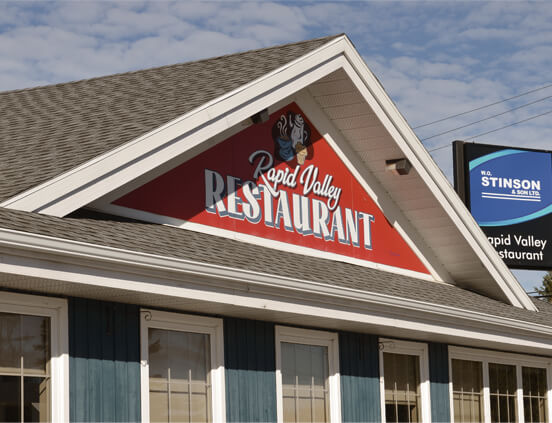 Rapid Valley Restaurant
The Rapid Valley Restaurant is located just south of the village at the junction of Hwy #2 and County Rd # 3. Home cooking sights and smells will greet you as soon as you enter the building.
Hilltop Coffee Stop
Located at "the top of the hill" in Lansdowne, it'll fill the bill for take-out meals and treats.
Many other venues with fine dining, patios overlooking the water, and fast foods can be found within a short drive from Lansdowne.
---
Fairs and Festivals
Lansdowne is home to many interesting and exciting events.
Many active organizations prepare fundraisers in the form of delicious suppers, musical entertainment, annual plant sales, and rummage sales. The Township Times is a bimonthly publication serving residents and visitors to make them aware of many upcoming events. Lansdowne also has an event sign in the heart of the village, that is updated regularly with pertinent information. Listed below are some of the many events that take place each year:
---
Internet Access – Hot Spots
Need to check your email or Facebook page? Free internet access is available at the Leeds & Thousand Islands Public Library – Lansdowne Branch, located at 1 Jessie St in Lansdowne, at the Lansdowne Community Centre. Keep in touch and spread the word about all of the interesting and exciting things to see and do in Lansdowne!
---
A to Z Services
What did we miss? Check it out at A to Z Services.
Lansdowne is a service hub with many stores and services to make your stay comfortable. Come and visit – you might consider Making the Move. We are a Welcoming Community, ready to serve you.
---